Dentures and Dental Implants Described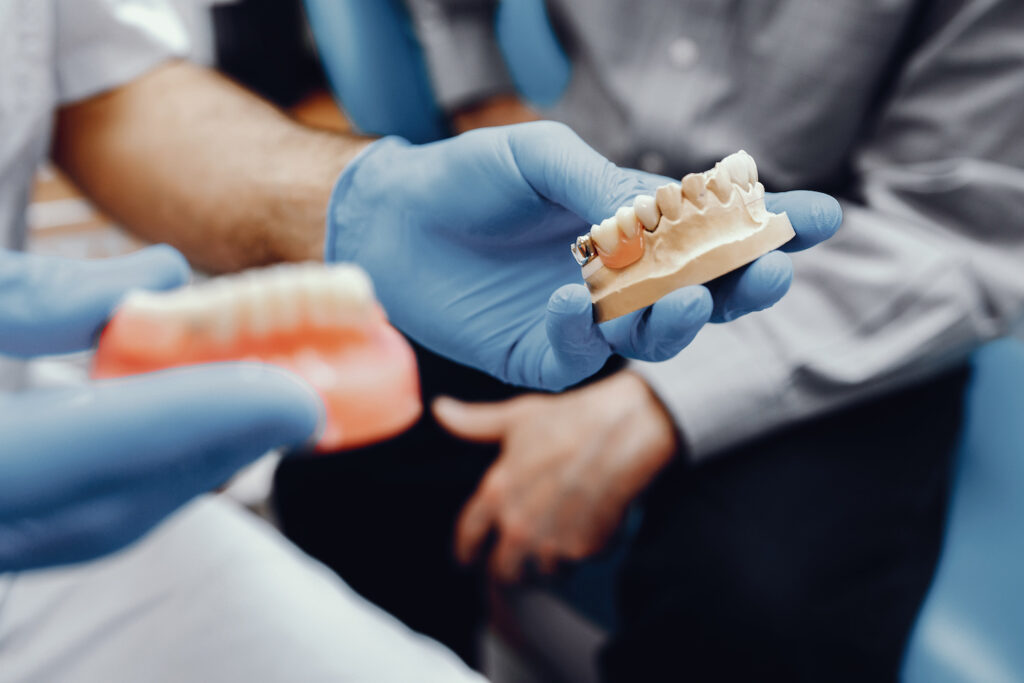 There is no one size fits all option when it comes to replacing teeth. What will work for one person may not work for another. But, before you speak with a dentist about your options, it is a good idea to understand how dentures differ from implants. 
Dentures – Full and Partial
Dentures are removable false teeth applied to false gum tissue. The gum tissue is made from an acrylic material which can be matched to the colour of your own gums. Likewise, the teeth are matched to the colour of your own teeth and are made to look and function like natural teeth. In fact, the methods and materials used to make dentures today makes it difficult to tell if you are wearing dentures or not. They are far superior to the ones you may have seen a grandparent or great grandparent wear. 
If you have lost just a few teeth a partial denture would be recommended. This fits over the gum and will often contain one or more brackets. Each bracket hooks onto an adjacent tooth to keep the partial denture in place.
If you have lost all your upper and/or lower teeth, a full denture will be recommended. The denture fits over the gums and sometimes a denture adhesive is recommended to keep the denture in place.
Just as you need to care for your natural teeth so too must you take care of dentures. The following practices are recommended:
• remove and rinse dentures after eating;
• clean your mouth after removing your dentures;
• brush your dentures at least daily;
• if you wear a full denture remove it nightly and soak it in a solution recommended by your dentist;
• if you wear a partial plate remove it for at least half an hour each day; and,
• rinse dentures thoroughly before putting them back in your mouth, especially if using a denture-soaking solution.
Dental Implants
Dental implants consist of an anchor or screw-like component that is fastened into the jawbone and through the gum. An artificial tooth is then attached to the screw. A single missing tooth or a few missing teeth can be replaced by implants.
Like dentures, the artificial tooth or teeth can be closely matched to the colour of your own teeth. Unlike dentures, implants do not move or shift. 
Care for implants in the same manner you do your own teeth with regular brushing and flossing.
Posted in Dental Care, Dental Services