Toothbrush 101: Choosing the right brush for your teeth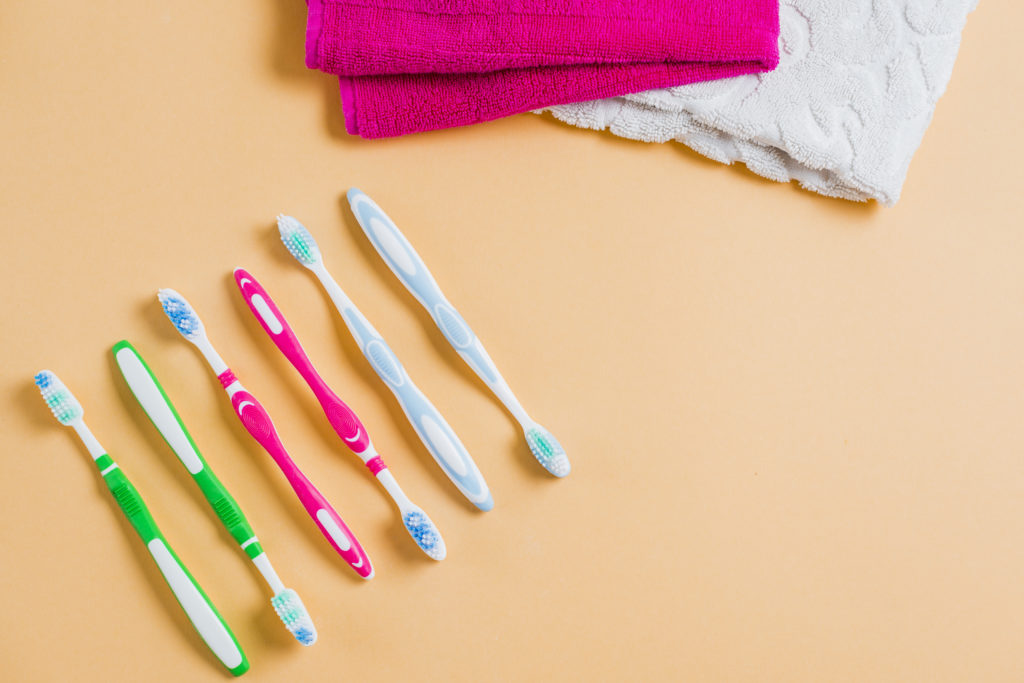 Have you ever visited your local drugstore to pick out a new toothbrush and wondered why there are so many different varieties? Should you choose a brush with soft bristles, medium or hard? Why should you choose manual versus electric? We're here to clarify and to help you choose the best toothbrush for your unique needs.  
For the vast majority of people, soft-bristled toothbrushes are typically the safe choice, especially for those with sensitive teeth. Brushes with medium or hard bristles can damage the enamel on your teeth, depending on the strength of your teeth and how vigorously you brush.
If you are someone who doesn't experience tooth sensitivity, a medium-bristled brush can be beneficial for a deeper cleaning. If you plan to use a medium toothbrush, it's important that you do not apply too much pressure to your teeth and gum area.
Hard-bristled toothbrushes are recommended only for a thorough cleaning and should not be used daily. While they are effective tools for stain removal, everyday use can be too hard on teeth and gums. We recommend using a hard toothbrush for brushing dentures or partial teeth that are stained.
It's also important to consider which brush is going to be most effective for maintaining good oral health given your unique lifestyle. Every mouth is different, that's why we made a list containing the pros and cons for both electric and manual toothbrushes.
Manual Toothbrush:
Pros:
-Affordable. Most toothbrushes range from $1-$3
-Accessible and easy to take on-the-go. If you're someone who travels a lot, manual toothbrushes are lighter and easier to pack. 
-You choose the pressure and speed of your brush. If you have sensitive teeth, you can go lighter on areas where your teeth are most prone to pain. 
Cons:
-Not environmentally friendly. Manual toothbrushes are only meant to last a few months. After that, you dispose of it in the waste and head to the store to get a new one. 
-Not as effective if you find it difficult to clean your mouth. In order to get the best clean, you should always brush in circular motions with your toothbrush. 
Electric Toothbrush:
Pros:
-Does most of the work for you. Electric brushes move and vibrate which makes it easier for people with limited mobility. 
-Built-in timers. Most electric toothbrushes have built in timers that tell you when it's time to stop brushing. This feature is especially great for kids who aren't sure how long to brush their teeth for. 
-Investing in a product. Electric toothbrushes are meant to last a long time. As long as you keep them clean, they will last you a lot longer than your manual toothbrush. 
Cons:
-Electric toothbrushes can be expensive but they don't have to be -we sell exclusively Sonicare and have them for under the $40 mark for our patients, and some of the more expensive models actually do come with a USB charger and small carrying case to make travel easier.
-Difficult to travel with. Most electric toothbrushes come with a large base for charging the brush. If you travel internationally, you'll require a backup travel toothbrush. You never know when you'll be stuck without an outlet or an adapter for the various outlets they have overseas. 
Posted in Dental Care