Pregnancy and Dental Care – Five commonly asked questions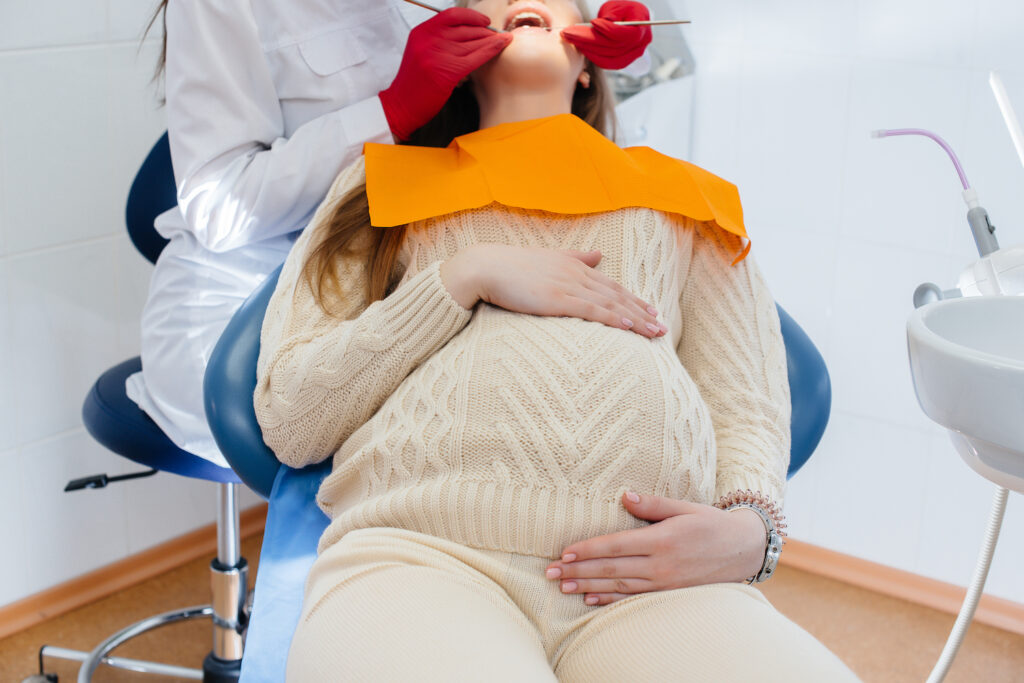 At one time it was common to think that visiting the dentist while pregnant could cause undue harm to the mom and child-to-be. This, however, is an old wives tale and couldn't be further from the truth. 
In this blog post, we address some common questions you might have about pregnancy, oral hygiene and dental care.  
Can I visit the dentist while I am pregnant?

 
In a word, "yes!" Caring for your teeth and gums at home and by having regular cleanings and check-ups at the dentist are both critical to maintaining a healthy pregnancy. 
At what stage of my pregnancy should I visit the dentist?
Dental cleaning and check-ups are safe at any time during pregnancy. It is recommended you visit your dentist early in your pregnancy for a cleaning and check-up. 
However, it is generally accepted among dental professionals that dental work like fillings and crowns be scheduled during the second trimester — that is, between the fourth and sixth month of pregnancy.
Are dental x-rays safe during pregnancy?
Dental x-rays are safe during pregnancy. Studies have shown conclusively that you need a very high dose of x-ray radiation during pregnancy to cause any harm to the baby. Dental x-rays come nowhere near this dose. To illustrate, two dental x-ray films expose you to just 0.2mSv of radiation, which is the same amount of radiation you get from a 7-hour plane ride. For radiation to cause any harm to your baby, you need at least 2,500 times that amount. Additionally, the small dose of radiation you get from a dental x-ray is concentrated and pointed at your mouth so your baby is not directly exposed to the x-ray beam at all. 1 
Consider the addition of the protective apron placed over you and you can feel confident that your baby will not be harmed by the x-rays at all. 
If you're receiving treatment at our office, you'll be happy to know we use digital x-rays which are known to use 90% less radiation and are more environmentally friendly than traditional x-rays!
While pregnant should I change my daily oral hygiene routines?
If you are brushing twice a day with a fluoride toothpaste and cleaning between your teeth once a day, keep up your great habits. If however, you do not practise these good oral health habits on a daily basis there is no time like the present to start. Taking good care of your teeth and gums during pregnancy helps with your overall health and let's face it, it will help when the time comes to teach your child how to take care of their own teeth and gums.
How does what I eat affect my baby's teeth?
Your baby's teeth develop during the third and sixth months of pregnancy. Eating well before, during and after this period will help your baby's teeth form correctly. It is important that you eat foods that include vitamins, A, C, and D, protein, calcium and phosphorous. Additionally, you have likely been told to take folic acid supplements. If you feel your diet is lacking in the vitamins and nutrients mentioned, talk to your health care practitioner about ways you could enrich your diet.
1 Rush, Cassidy, Content Marketing Manager, Delta Dental Washington
 https://www.deltadentalwa.com/blog/entry/2019/dental-x-rays-while-pregnant
Posted in Dental Care